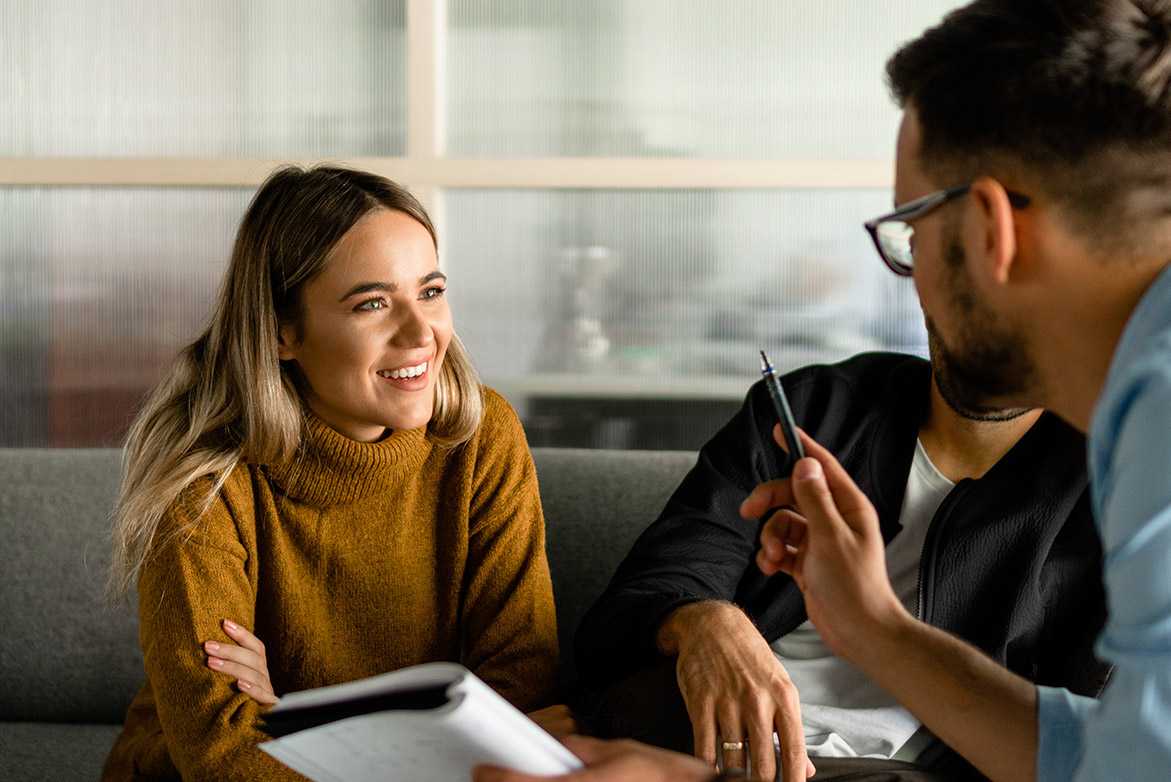 10 Questions to Ask Your Loan Officer Before Purchasing A Home
It's a universal truth that purchasing a home is exhilarating and nerve-wracking. It also makes you question everything. And if you're working with a loan officer, questioning things is one way you can build a strong partnership and have a stress-free experience. At Hixon, we're all about transparency, so we've put together a list of the top ten questions to ask your loan officer and why they're important. 
Purchasing a Home? Start Here. 
Before you can ask the questions, you need to do one thing: find a loan officer. This process starts with research, much like finding a home does. First, look into home officers and lending companies in your area. It might help to have a pros/cons list for the ones you find. Then, search for the available loan officers through the organization and read up on each. We suggest narrowing down this list to three or four who would be a good fit. 
At Hixon, we added a convenient Find A Loan Officer page so our clients can do just that. From here, you can quickly see names, headshots, titles, NMLS numbers, and locations. The learn more button under each is a great way to read more about your potential loan officer and get in touch with them. Despite our expert team's varied backgrounds, a couple of things are true for all: they're people-people, problem solvers, and PNW-loving, local lending experts. 
Now that you've got that step done, let's move on! 
The Top 10 Questions To Ask 
You more than likely have a miles-long list of questions to ask your realtor (like what's the neighborhood vibe?). Equally important are the questions you should ask your loan officer before purchasing a home. 
These are our top ten:  
1. What Type of Loans Do You Offer? 
From the get-go, you should understand what types of loans your lending institution offers. Your loan officer should be well-versed in this and can provide insight into which loans have which functionality. Because there isn't a one-size-fits-all approach to lending, this step allows you to get your bearings and explore options for your personalized lending. 
At a glance, Hixon offers the following loans: 
Conventional: The most common type of loan with advantages for qualified buyers. 
Jumbo: Purchasing power that exceeds conventional loan limits. 
FHA: Government-backed loan as an alternative to conventional funding. 
VA: Home loans for current and veteran military service members and eligible spouses.
USDA: Low-to-moderate income borrowers dreaming of rural living.  
Renovation: Increased buying power and extra funds for home improvements. 
High Balance: Offering affordable options for high-cost areas. 
Condo: Designed to finance condos for primary residences, vacation homes, or investment properties. 
New Construction: Covers the cost of custom home building with flexible repayment options. 
2. How Do I Choose The Best Loan For Me? 
With the above in mind, your next step should be working with your loan officer to find the loan that's exactly right for your situation. When answering this question, your loan officer should take the time to know you, your goals, and your unique financial situation. By doing this, they can recommend the best loan option to make your homeownership goals happen. 
3. How Much Will I Have To Put Down? Do I Qualify For Down Payment Assistance?
As we covered last month, your down payment is determined by your loan requirements and situation. Putting down 20 percent of the purchase price isn't a hard and fast rule, but it impacts whether you'll pay private mortgage insurance (PMI). After you decide on your loan type with your loan officer, they can walk you through your down payment amount based on your budget. 
This is also a good time to ask if you qualify for any down payment assistance like those offered by the VA, FHA, or other state-specific programs, depending on your financial need. The more open you are during this process, the more your loan officer can help. 
4. What Do I Need To Qualify For A Loan? 
Once you've asked the above and chosen your loan, it's time to gather documents and ensure you meet all loan requirements. This will vary by loan, but your loan officer can help you check items off your list. Things like credit scores, income statements, employment information, debt-to-income ratios, and home appraisals are typical for buyers to provide. 
This is an excellent time to ask your lending officer questions like what to do if you're unemployed, have declared bankruptcy, or receive retirement or disability income. 
5. What Will My Interest Rate Be? 
Interest rates are on everyone's mind right now. Before applying for your loan, your loan officer should be able to give you an estimate based on the type of loan, down payment amount, and market factors. They can also compare the fixed rate (set interest for the life of the loan) versus the adjustable rate (interest rate changes periodically). 
Hixon lending officers stay updated on current rates and keep buyers informed every step of the way. They can also give insight about how to lock in interest rates and what factors could impact this number. 
6. What Will My Monthly Payments Be? 
Again, this answer will generally be determined by several factors, including how much you're putting down. It's your responsibility as a buyer to be transparent about your financial situation and what you can afford so your loan officer can set you up for long-term success. 
7. Do You Underwrite Loans In-House? 
Underwriting a loan is the decision-making part of the process. It essentially determines if you qualify for a loan. Underwriting in-house means that the lending institution you're working with makes these decisions rather than relying on a third party or an algorithm. Asking this question is a critical step in the lending process because it can determine whether your particular situation is considered. 
At Hixon, we underwrite all loans in-house and take a people-first approach. Always. 
8. Will You Update Me On My Status? How Often? 
Purchasing a home is a huge decision. You deserve to be part of the process throughout its many steps. Being upfront about this question is a great indicator of future lending success. The answer should be that you're a partner in the process and that your time, opinion, and desire for information are valued. 
9. What Costs Will I Be Responsible For At Closing? 
Even before applying for a loan, you should ask this question. By getting an early handle on all expected costs, you can have an overall better home-buying experience. Your loan officer should be able to walk you through additional costs expected such as the appraisal, title search, and property taxes. They should also keep you informed about what to bring to closing, including a cashier's check or bank transfer information and forms of identification. 
10. What Happens After Closing? 
You may be surprised that the lending process doesn't end once you sign for your home. Asking this question early means you're making sure your loan officer is your partner whenever questions arise. At Hixon, we make the process as stress-free and straightforward as possible and maintain our same open communication far beyond closing. 
Trust The Experts at Hixon When Purchasing A Home 
When it comes to big life decisions—like purchasing a home—the more information you can get, the better. By adding these questions to your list, you can ensure a more seamless lending experience. For all your answers, trust the Hixon experts.